!Spiers.net. ----!>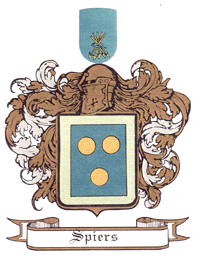 Get your own @spiers.net Address


I will need your current email address and what you want the ????@spiers.net to be.

Your @spiers.net email address can be used for more personal letters while you use your current address for a bit more anonymity.


We have migrated the email accounts to google mail or Gmail. You can get an @Spiers.net address and manage it yourself. The spam feature on Gmail is awesome. I rarely every get spam.


Anyone who wishes to list their locations here is welcome to do so. It is nice to see where we are all located around the globe. There is also a Google map created to show where we are and you can add to the map. Spiers Map. Click on the edit button and on the map you will see a blue baloon, click on it and drag it to a location on the map that you want.


Kevin Austin, Tx
Darla Austin, Tx


Robert Kingsland, Tx
Annette Kingsland, Tx


Tracy Austin, Tx
Cynthia Austin, Tx
Jay Austin, Tx


Kirk Houston, Tx
Rhonda Houston, Tx
Aaron Houston, Tx
Alisha Houston, Tx
Brittany Houston, Tx


Bryan Oklahoma City
Jennifer Oklahoma City

Lindsey Oklahoma City

Isaac Oklahoma City




Mickey Spier Papillion, Nebraska
Michael Spier

Paul England
Ann England
Neil England
Adam London, England

Chloe Manchester, England
Stuart Shropshire, England
Thea Manchester, England
Ian England
Matt Brighton, England
Nigel Branston, England
Mark Wiltshire, England
Nigel Horsham, England
John England
Sue England
Matt England
Regan England
Kerry England


Ron England
Martin Sheffield, England
William Wiltshire, England
Dave & Lorraine Southend-on-Sea Essex, England


Thomas John Airdrie, Scotland
Elizabeth Airdrie, Scotland
Jackie Airdrie, Scotland
Gillian Scotland
Douglas Motherwell, Scotland
Malcolm "Joe" Scotland
Sally Scotland


Samuel Wales
Barry John Welshman


Björn Schwanstetten Germany
Jens Germany


George New Zealand
Coryn New Zealand
Kylee - A Kiwi in Virginia
Ruth New Zealand
Megan New Zealand
Susan New Zealand
Kimberlee New Zealand


Gary Beijing, China


Roger Singapore


Tizoc Peru
Kareen Lima, Peru
Norma Lima, Peru
Allison Lima, Peru
Eduardo Lima, Peru
Erika Lima, Peru
Maria Lima, Peru
Annie Long Island, NY
Ana Lima, Peru
Miguel Lima, Peru


Barry Toronto, Ontario, Canada

Lee Ontario, Canada
Helen Toronto, Ontario, Canada

Rebecca Edmonton, Alberta, Canada
Chuck Sarnia, Ontario, Canada


David 'Spider' Bunbury, Australia
Shiela Australia


Daniel Provence, France
Geneviève Provence, France

Geneviève's web site
You gotta see this place

David Richmond, Virginia
Ray Virginia
Newton St. Simons Island, Georgia

Melanie B. Georgia


Carl Louisiana
Ethel Louisiana

Terry Louisiana
Linda Amite, Louisiana
David A. Louisiana

Jim Chicago


Tom Colorado Springs
Patty Colorado Springs
Rebecca Colorado Springs
Ben Colorado Springs
Sterling Colorado Springs
Tommie Sue Colorado Springs


Jessie Colorado Springs
Mike Colorado Springs

Karina Colorado Springs
Wendy Colorado Springs


Jon Arkansas

Don Missouri


Carla Spiers Coulter Mc Fall, Missouri
Jim Grant City, Missouri
Merry Grant City, Missouri


Ottice Edmond Idaho


Joe California
Holly California
Christopher California
Zachary California


Gloria Spiers Lowe Lamar County, Mississippi


Robert Mahopac, New York
Paul Robert Sodus, New York


Nancy Boca Raton, Florida
Allan West Palm Beach, Florida


Katie Orange Beach, Alabama